We've wrapped up Bozophobia's free reading period on Inkitt.
You can find the ebook now on Amazon. Click the image for the link.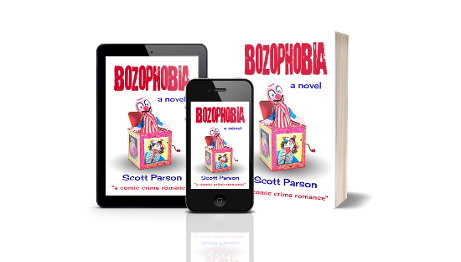 The paperback is in the works and should be on the virtual shelves shortly.
Again, thanks for running off with us to join our little circus.
---
Scott has written for multiple platforms.

---
Issue #4 of Dual Coast Magazine
, an online and print-based literary magazine serving as a showcase for excellent fiction, nonfiction, poetry, and more, published Scott's flash fiction piece, Catch in September 2016.
April 2016 issue of Spank the Carp - Pond 18 an online literary journal offering unique, thought-provoking fiction and poetry is the perfect place for Scott's story, Unused Room.
The Winter Shapes – 2014 issue of Digital Americana. This inspired edition features cutting edge original fiction, including Scott's story, Gingerbread Men.

BalloonJack!, an audio play, is a high-altitude thriller of epically short proportions, produced by the amazing and talented people at Citizen Racecar, David Hoffman, executive producer. It can be heard on The Electromagnetic Theater website or through iTunes.
The short story, Theory of Impact, appears in Doomology: The Dawning of Disasters, exploring a little slice of the post-apocalyptic world minus the zombies.